Basic Life Support (BLS) refers to the type of care that first-responders, healthcare providers and public safety professionals provide to anyone who is experiencing cardiac arrest, respiratory distress or an obstructed airway. It requires knowledge and skills in cardiopulmonary resuscitation (CPR), using automated external defibrillators (AED) and relieving airway obstructions in patients of every age.
A medical assistant needs to be capable of performing Cardiopulmonary Resuscitation (CPR) with the use of an Automated External Defibrillator (AED) for Basic Life Support (BLS). This skill lab teaches you how to you how to perform Basic Life Support (CPR and AED) for life-threatening emergencies.
Learning Sequence Builds Confidence
The learner practices the procedure in the 'guided mode' (interaction hints and an expanded checklist guide) as often as they like. 
When the learner is confident that they can accurately demonstrate the procedure without error, the learner plays the level in the 'expert mode' (no hints or checklist explanations) - which they can repeat as often as they wish. 
Finally, when the learner is confident that they have mastered the procedure - they take a one-time 'exam' attempt which results in their grade for that procedure.
The Medical Assisting Clinical Suite (Professional) Edition is available for purchase through the Oculus AppLab for $149.99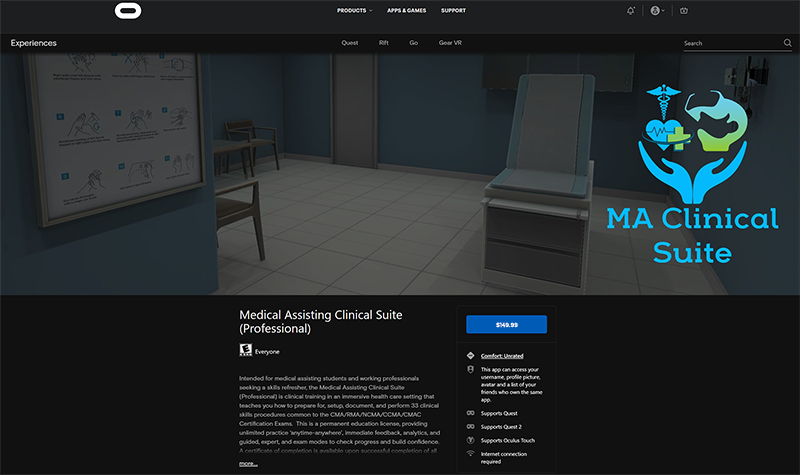 Features

Guided Mode - ghosted hints show step-by-step positions, learner can 'see through' the patient to verify placement.
Oculus Quest Affordability & Ease of Use - next generation game development processes allow the untethered, mobile VR to present effective visual and interaction fidelity at 1/4 of the cost of desktop VR.
Feedback - Cloud-based enterprise incorporates real-time data acquisition that allows learner to track progress and mastery, and provides detailed insights for debrief with faculty.
Support - Enterprise incorporates Knowledge Base (with tutorial videos & FAQ) - combined with help desk support staff for learners and staff.
CPR Checklist
Check the patient to determine if they are conscious or not.

Check for scene safety.

Call 911 or get someone to call 911.

Get someone to get an AED.

Check for responsiveness.

Clear airway.

Place Mask.

Do compressions until AED Arrives.

AED Arrives - Open AED.

Turn on AED.

Connect AED Pads, AED analyses.

Shock is advised, clear patient.

Shock patient.

Continue compressions and rescue breaths until ambulance arrives.