A medical assistant may be asked to take the patient's apical pulse, which is the most accurate non-invasive measurement of heart rate because it is measured directly over the apex of the heart. Apical pulse is preferred in cases when the radial pulse is difficult to palpate, when the pulse is irregular, greater than 100 beats per minute, or less than 60 beats per minute when measured by other means (electronic, radial, etc.). This skill lab teaches you how to prepare for, perform, and document taking an apical pulse.
This lab is based on the entry-level competencies for which the Commission on Accreditation of Allied Health Education Programs (CAAHEP) and Accrediting Bureau of Health Education Schools (ABHES) test the Medical Assistant.
Learning Sequence Builds Confidence
The learner practices the procedure in the 'guided mode' (interaction hints and an expanded checklist guide) as often as they like. 
When the learner is confident that they can accurately demonstrate the procedure without error, the learner plays the level in the 'expert mode' (no hints or checklist explanations) - which they can repeat as often as they wish. 
Finally, when the learner is confident that they have mastered the procedure - they take a one-time 'exam' attempt which results in their grade for that procedure.
The Medical Assisting Clinical Suite (Professional) Edition is available for purchase through the Oculus AppLab for $149.99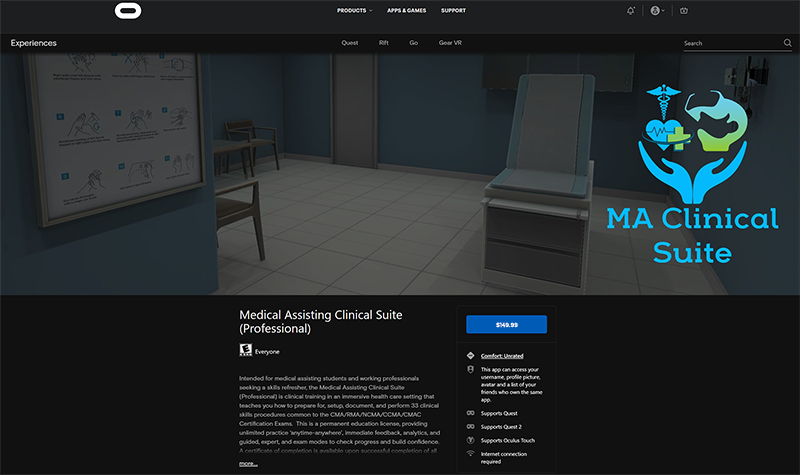 Features

Guided Mode - ghosted hints show step-by-step positions, learner can 'see through' the patient to verify placement.
Oculus Quest Affordability & Ease of Use - next generation game development processes allow the untethered, mobile VR to present effective visual and interaction fidelity at 1/4 of the cost of desktop VR.
Feedback - Cloud-based enterprise incorporates real-time data acquisition that allows learner to track progress and mastery, and provides detailed insights for debrief with faculty.
Support - Enterprise incorporates Knowledge Base (with tutorial videos & FAQ) - combined with help desk support staff for learners and staff.
Apical Pulse Checklist
Introduce yourself, explain the procedure, and allow patient time to ask questions.

Ask patient to state first and last name and date of birth and compare to the patient chart to verify this is the correct patient using two identifiers.

Gather supplies, perform hand hygiene, clean stethoscope earpieces and diaphragm with alcohol wipes.

Prepare the patient by instructing them to remove their clothing above the waist, put on the front opening gown, and be seated comfortably.

Hold the stethoscope's diaphragm against the palm of your hand for a few seconds.

Place the stethoscope just below the left nipple in the intercostal space between the fifth and sixth ribs over the apex of the heart.

Listen carefully for the heartbeat.

Count the pulse for 1 full minute. Note any irregularities in rhythm or volume.

Instruct the patient to dress.

Record the pulse reading on the patient's chart and record any arrhythmias.

Sanitize hands.

Answer any questions

Document the procedure and findings according to agency policy.